Playing online Live Dealer baccarat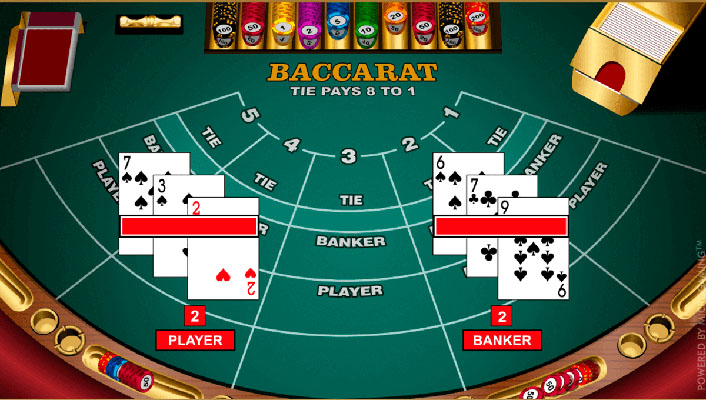 A game like baccarat, with its aura of opulent European gambling salons and sophisticated tuxedo-wearing players, needs to be played one-on-one against a live dealer.
Thanks to web cam technology, online casinos can now offer you the opportunity of dressing up in your fanciest gear and pitting yourself against a live, in-the-flesh dealer from the comfort of your own home.
Live Dealer tames are the perfect blend of online and land-based casinos – the interactivity and social pros of a brick-and-mortar casino added to the ease of playing whenever and wherever you want.
What is online Live Dealer baccarat?
Online Live Dealer baccarat is baccarat played at an online casino with a live dealer, a real table and real cards. While there are digital versions that use Random Number Generator software to play against the machine, the live version is just so much more visceral and interactive.
Online Live Dealer baccarat lets you play in real time against a real dealer using the web cam on your computer, laptop, tablet or mobile phone.
Why play online Live Dealer baccarat?
While playing against a software programme is fun, nothing makes you feel like James Bond (a famous fan of baccarat) more than a real game against a real person. And being able to Live Chat with the dealer and see how others are playing and doing makes it a bit less lonely than sitting in your office after hours.
What makes online Live Dealer baccarat different?
It's the exact same game as you would find in a land-based casino, with the same rules and play as your online version with a few interesting variations that are made possible through technology.
For example, you will find far more exotic themes –­ like Dragon Baccarat – than you would in a land-based casino.
The cards may look a little different. Online Live Dealer cards are a bit bigger, with the card values being printed a lot bigger, than normal casino cards. This is so you can clearly see your cards over the web cam.
You may also notice a red laser scanner on the table. This scanner reads each card as it is deal and the software then puts it up on your screen so you can see your hand and the dealer's hand more easily.
It also help to keep the dealer and the game fair and transparent.
Are online Live Dealer baccarat games rigged?
No. Not at a legit, licensed online casino. Using the scanner and software as mentioned above, along with various cameras and pit bosses, online casinos have gone to great – and costly – lengths to make sure your online Live Dealer baccarat game is absolutely above board.
The Guru says:
Online Live Dealer baccarat bring the best of the online and the offline casino worlds together. Add in the ability to play from anywhere, via your PC or mobile device, and you have the perfect combination of setting, people and thrills.
The Guru recommends you do this before playing online Live Dealer blackjack:
Try a few different online casinos before jumping into Live Dealer games.
Always check the rules before you start playing.
Set a budget and stick to it.
Use winnings to carry on gambling and put your initial stake aside to play another day.
Put on a tux or elegant cocktail dress and make out like you're James Bond or Miss Moneypenny playing in Monte Carlo.