Playing online Live Dealer blackjack
Live dealer games at online casinos are the fastest growing innovation in the online gambling world. There is just something about seeing the cards being dealt or watching the wheel spin and the ball bounce that an RNG can't offer.
Blackjack and roulette were the forerunners of the online Live Dealer boom, the first two games that were given the live streaming web cam treatment to give online casino players the chance to play with real dealers.
Since then there have been numerous other games added such as sic bo and baccarat and poker – but blackjack is still the king of casino card games, even in the online Live Dealer world.

What is online Live Dealer blackjack?
Online Live Dealer blackjack is the online version of the world's most popular casino card game, but instead of graphics and a Random Number Generator you are actually playing against a real-life dealer via web cam in real time.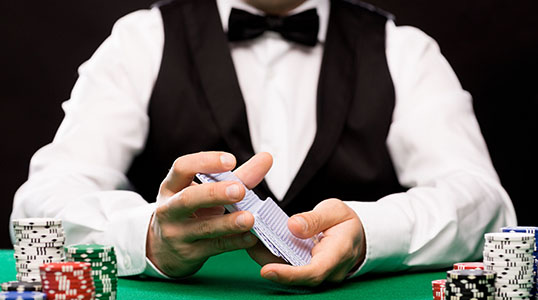 Why play online Live Dealer blackjack?
For many people, the thrill of a game like blackjack is about more than winning or losing, it's about testing your luck and skills against a real person. Online Live Dealer blackjack lets you play with real cards, at a real table, in a real casino card room, against a real dealer. For real money. And real thrills.
All while wearing your favourite PJs in the comfort of your own home.
What makes online Live Dealer blackjack different?
The game itself is the same as the blackjack games you would find at a land-based casino or the online digital version you would play at an online casino.
The biggest difference is the technology. With oversized cards so you can see exactly what is being dealt easily, card scanners that immediately identify and show you what cards you are sitting with (and record them for fair play proof), streaming tech that lets you play in real time and a software programme that makes sure everything is being done fairly and securely it really is the best of all possible worlds.
Are online Live Dealer blackjack games rigged?
As mentioned above, the technology used – if you are playing at a legit online casino – makes it impossible for anyone to cheat. Added to the technology is the fact that there are pit bosses that oversee the games and the dealers and all games are recorded just in case there are any disputes.
The Guru says:
Online Live Dealer blackjack is the most fun you can have with your trousers on – or off. We don't judge. And no-one can see you over the web cam. But still, wear trousers.
Seriously, Live Dealer games take the online casino world into a new realm and online Live Dealer blackjack is definitely the leader. Great environment. Great game. Professional dealers. A win-win all round.
The Guru recommends these online casinos for a great online Live Dealer blackjack experience.
When you're ready to hit the table and chase that blackjack, these online casinos will give you, the South African player, the best experience:
[aces-casinos-4 items_number="3″ external_link="1″ category="" items_id="417,741,755″ order="DESC" orderby="date" title="Casinos for live dealer blackjack"]
The Guru recommends you do this before playing online Live Dealer blackjack:
Try a few different online casinos before jumping into Live Dealer games.
Always check the rules before you start playing.
Avoid the 'insurance' side bet – it rarely pays out and is skewed highly in favour of the house.
Set a budget and stick to it.
Use winnings to carry on gambling and put your initial stake aside to play another day.